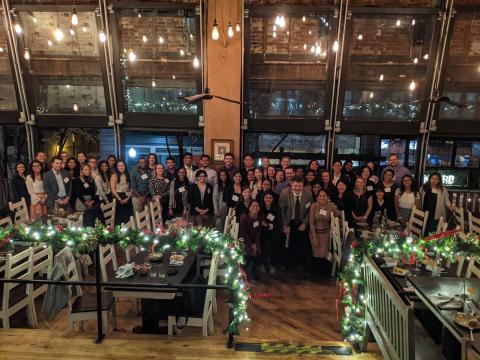 The PSTP hosted its first entirely in-person retreat since 2019 on Friday, November 4! Our community was incredibly excited to be able to celebrate the program and our students' accomplishments together!
The day began with a wonderful poster session in the medical school where 34 students presented their research and answered questions from the over 200 attendees present. Other highlights of the afternoon program included a data visualization workshop and an inspiring keynote speech from neurosurgeon-scientist Kalil Abdullah, MD.
To cap off the day, the PSTP hosted a networking dinner at highly-acclaimed Pittsburgh restaurant Sienna Mercato. The program invited 15 early-career physician-scientists to share their wisdom and knowledge in an informal setting.
Throughout the day, many great memories were made by all! The PSTP retreat was organized by Madeline Ross (Research year), Shweta Kitchloo (Research year), Divya Natesan (MS2), Srividya Kottapalli (MS2), Sahana Krishna Kumaran (MS1), and Renata DiDonato (MS1). The program is excited for our 2023 retreat next November!!